Hi everyone, Today I'm going to show How I Crocheted Catching Snowflakes Cowl!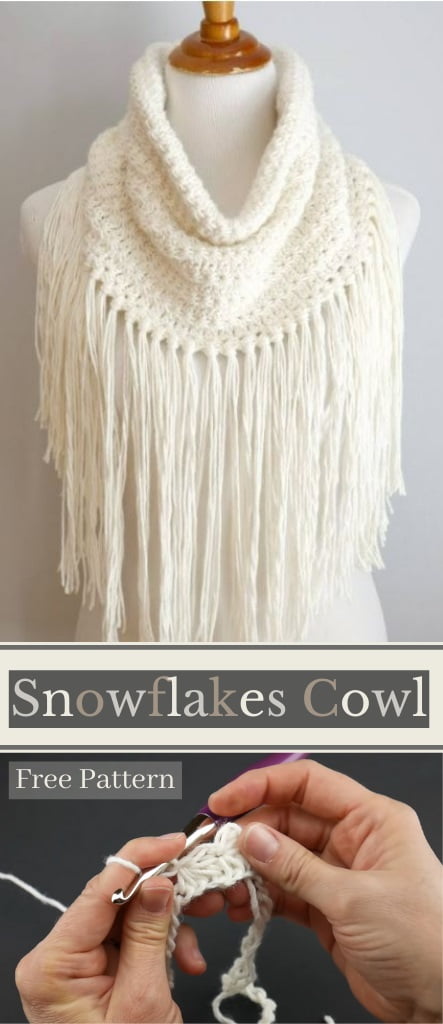 In this video I'm going to show you how I crocheted this beautiful Catching Snowflakes Cowl. This is a lovely piece that you can stitch up pretty quickly.
We're going to be making some star stitch in the roun, so it will be a seamless cowl. I'm going to show you how to do that every stitch of the way. If you're not familiar with the star stitch it makes a lovely texture and we're also going to add some optional fringe. You can add the fringe or not it's totally up to you, but it does make a pretty uh look when you wear it.
So we're going to work from the bottom up and make the cowl in the round. We're going to add the fringe and then the finished dimensions are what I got but we're going to learn how to customize your cow If you want it to be larger or more snug the finished. Cowl that I have here measures about 28 inches in circumference and the cowl itself the crocheted part is about 11 inches tall and then our fringe at the bottom adds an additional 11 inches to the bottom.
So let's get started
For this project you'll need a pair of scissors a tapestry needle a tape measure is super helpful to get the measurements. We're going to be using a 6.5 millimeter "k" crochet hook my furls odyssey. I'm going to be using four skeins of their worsted weight and the neat thing about this yarn is that it's a "z" twist for crocheters. So when you wrap the yarn around the hook and pull it through it um doesn't come undone it's really neat.
So let's move on! let's learn making it! For more crochet ideas don't forget to Follow Us On Pinterest and Like Us On Facebook!